Rectangles and Squares
Rectangle and square tables can be customized and repeated*. Tops are made from 1/8" thick aluminum sheet. It's pretty stout stuff. Squares can be had up to 48x48". Rectangles up to 48x120". Sides can be had almost without limitation up to the height of the table (e.g. a cube is no problem). The finish is powder-coated, usually clear and a color.
Legs shown are made from square or round tubing with 1/8" thick walls for strength. Hairpin legs shown are 3/8" solid round aluminum rod. 1/2" is available as well. The finish is powder-coated as well.
*No two tables will be precisely alike as the patterns applied to the surface of the aluminum are done by hand.
The Possibilities Are Endless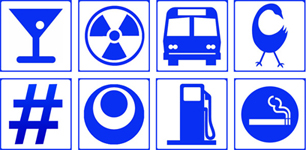 Click on the above sample set to learn more and look at the pictures below. I really like the symbols and shapes with a translucent color and a finish coat of clear over top. But I also like a pattern, no symbol, with a little color on the edges and a finish coat of clear (like the second picture below, that one's in my living room). Or you can choose a solid color (the ampersand) and clear. Anything goes.